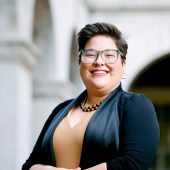 Shelley Sizemore
Director
Wake Forest University (BA) Wake Forest University (MA)
she/her/hers
gravessa@nullwfu.edu
Shelley Sizemore serves as the Director of the Women's Center. In this role, she leads efforts to advance gender equity and support women at Wake Forest. Shelley began working at Wake Forest in 2009 when she was hired to institutionalize and scale the Campus Kitchen Project, a food recovery program that utilizes student volunteers and institutional resources to address food insecurity in Forsyth County. Prior to coming to ODI, she served as the Director of Community Partnerships in the Office of Civic & Community Engagement. Shelley has developed and taught courses at Wake Forest in the Communication and Education departments. She is a seasoned workshop facilitator and has led workshops for students, faculty, staff, and community members on asset-based community development, intercultural communication strategies, and partnership development.
Shelley currently serves on the boards of HandsOn NWNC and the Centers for Exceptional Children. She grew up in the town of Wake Forest, NC, and received her B.A. and M.A. from Wake Forest University. She is pursuing a Ph.D. from the University of North Carolina at Greensboro in Education where her research is focused on community-based education for social justice, critical community building, and the rhetorics of activism and advocacy.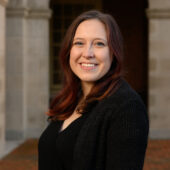 Hannah Rehm
Assistant Director
she/her/hers
rehmh@nullwfu.edu
Hannah Rehm serves as the Assistant Director for the Women's Center. She is a graduate of the University of North Carolina at Greensboro where she earned her B.S. in Human Development and Family Studies in 2014. Hannah's professional career has largely been focused on Community Engagement work through several North Carolina nonprofits that support Refugee and Immigrant communities.
Hannah was raised and currently lives, in Greensboro, North Carolina. She is passionate about empowering students to use their own passions and lived experiences to promote equity and empathy in their circles of influence.
Hometown: Greensboro, NC
Education: UNC Greensboro (BS) – Human Development & Family Studies
Hobbies: Gaming, reading, cooking, and streaming a ton of tv shows.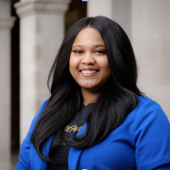 Antayzha Wiseman
Program Coordinator for the LGBTQ+ Center and the Women's Center
she/her/hers
wisea17@nullwfu.edu
Antayzha serves as the Program Coordinator for the LGBTQ+ Center and the Women's Center. She earned her B.A. in History from Wake Forest, where she served as a student assistant in the LGBTQ+ Center and a campus-wide advocate for inclusion. Antayzha has a passion for developing and supporting intersectional programming and equitable practices.
Hometown: Lenoir, North Carolina
Education: Wake Forest University (BA) – History
Hobbies: Writing poetry, gaming, and curating playlists
"When my brothers try to draw a circle to exclude me, I shall draw a larger circle to include them. Where they speak out for the privileges of a puny group, I shall shout for the rights of all mankind." -Pauli Murray
---
Student Staff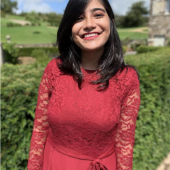 Zobia Akhtar
Women's Center Graduate Assistant
she/her/hers

Zobia Akhtar is a Women's Center Graduate Assistant. She assists the Women's Center with communication and graphic designing, and is also currently pursuing a Masters in Counseling degree. Zobia is very passionate about gender equality, the provision of safe spaces for individuals to express themselves, and playing her part for the betterment of the world however possible.
Hometown: Karachi, Pakistan
Education: Wake Forest, Class of 2023
Hobbies: Listening to music, watching Korean dramas and anime.
"She said that kindness is something that grows inside of each person's body, but it's up to us to nurture that kindness in our hearts. That's why kindness is different for every person." – Tohru Honda, Fruits Baskets.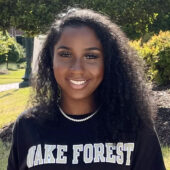 Nadia Marie Johnson
Women's Center Graduate Assistant
she/her/hers

Nadia Marie Johnson is a Women's Center Graduate Assistant. She facilitates the Women's Center's social media communication, content creation, and graphic designing and is also currently pursuing a Master of Communication. Nadia Marie's research focuses on Black womanhood and their image in the media as they battle the multifacetedness of anti-Blackness. She is passionate about racial equity and healing work that supports and advances the Black community.
Nadia Marie is a proud member of Alpha Kappa Alpha Sorority Incorporated and Lamba Pi Eta National Communication Association honor society.
Hometown: Augusta, Georgia
Education: Johnson C. Smith University ('22) B.A. Communication Arts – Summa Cum Laude, Wake Forest University Class of 2024
Hobbies: reading, writing, long walks in the park, traveling, and spending time with family and friends
"Find your truth. Listen to your heart. Pave your own way. This life is yours to create!" – Unknown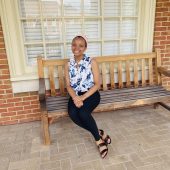 Nina Banks
Student Assistant

Nina intends to pursue a career in environmental conservation post-graduation. She always strives to use the insight she has gained interning for a non-profit cultural organization, working for the Office of Diversity and Inclusion, and her role on the executive board of two student organizations on this campus to approach he work through a lens of diversity and inclusion.
Hometown: Freeport, NY
Education: Wake Forest University, B.A. Biology and B.A. Anthropology
Hobbies: Writing (mainly poetry), singing, reading, going on long walks.
"Do I dare disturb the universe?" T.S. Eliot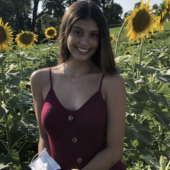 Heavyn McDaniels
Student Assistant
she/her/hers

Heavyn McDaniels works as social media coordinator and program assistant in the Women's Center at Wake Forest University. She is on the pre-med track and is planning on majoring in Health and Exercise Science. Heavyn is a freshman who is dedicated to creating safe and open spaces for everyone on campus and the world beyond. Heavyn is excited to be involved and make change for the Wake Forest and Winston-Salem community.
Hometown: Silver Spring, MD
Education: Wake Forest University '25
Hobbies: Watching Twilight on repeat, listening to music, traveling
"The only limit to the height of your achievements is the reach of your dreams and your willingness to work hard for them." -Michelle Obama
---