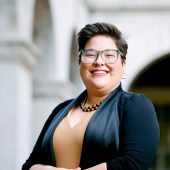 Shell Sizemore
Director
Wake Forest University (BA) Wake Forest University (MA)
she/her/hers
gravessa@wfu.edu
Shell Sizemore serves as Director of the Women's Center. In this role, she leads efforts to advance gender equity and support women at Wake Forest. Prior to coming to the Office of Diversity and Inclusion, Shell served as the Director of Community Partnerships in the Office of Civic & Community Engagement at Wake Forest. Shell has taught courses in the Education and Communication departments at Wake Forest and is a seasoned workshop facilitator who has developed and led workshops for faculty, staff, and students related to asset-based community development, intercultural communication strategies, and partnership development. She is currently pursuing a PhD from the University of North Carolina at Greensboro in Education where her research is focused on community-based education for social justice, critical community building, and the rhetorics of advocacy and activism. Shell serves on the board of HandsOn NWNC and the Centers for Exceptional Children. 
Hometown: Wake Forest, NC 
Hobbies: cheering on the Deacs, hanging out with my son, reading, watching Women's Soccer, hiking, seeing live music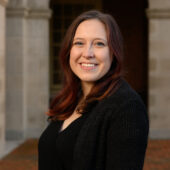 Hannah Rehm
Assistant Director
The University of North Carolina at Greensboro (BS)
she/her/hers
rehmh@wfu.edu
Hannah Rehm serves as the Assistant Director for the Women's Center. She provides oversight of the day to day operations of the Women's Center and supervises student assistants. Before coming to Wake, Hannah worked in volunteer management and community engagement for North Carolina nonprofits that support Refugee and Immigrant communities. In her role at the Women's Center, she is passionate about providing resources and education surrounding women's health and wellbeing. She currently runs the Menstrual Access Project, Women's Health 101 workshops and is a part of the institutionalization of Deacon Doulas in collaboration with Wake Forest Med students. Hannah is pursuing a Masters in Health Education and Promotion from East Carolina University to study barriers of health information and care with a focus on advocacy for access for low-income and marginalized populations.
Hometown: Greensboro, NC
Hobbies: Gaming, reading, cooking, and streaming a ton of tv shows.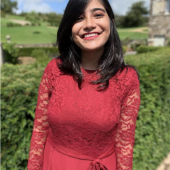 Zobia Akhtar
Program Coordinator
she/her/hers
akhtz21@wfu.edu
Zobia Akhtar is the Program Coordinator for the Women's Center. She assists the Women's Center with communication and graphic designing, and has a Masters in Counseling degree. Zobia is very passionate about gender equality, the provision of safe spaces for individuals to express themselves, and playing her part for the betterment of the world however possible.
Hometown: Karachi, Pakistan
Hobbies: Listening to music, watching Korean dramas and anime.
---
Student Staff
Heavyn McDaniels
Student Assistant

Javi Caceres
Student Assistant

Rute Ayalew
Student Assistant

Maggie Cowher
Student Assistant

Lexi Smith
Student Assistant

---