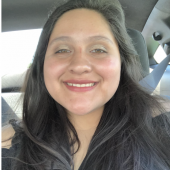 Rosa Almonte
Pronouns: She/her
Year/ Major: Sophomore/Psychology major and minor in neuroscience
Why LEAVEs? I got into my feminism during the end of middle school and really became a feminist during High School. However, I feel like I have more room to grow to become an active and passionate feminist. That's why I joined LEAVES. I wanted to be surrendered by a community of feminists so I could learn and grow from them and be more educated on feminism. I also want to advocate for feminism and spread the word around which is why LEAVES is perfect!
Fun Fact: I love watching foreign shows such as Korean, Japanese, Chinese, and Thailand dramas, etc.
Feminist Icon: Malala Yousafzai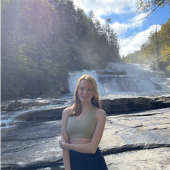 Sam Goodman
Pronouns: she/her/hers
Year/Major: Sophomore, and Psychology/Studio Art double major
Why LEAVEs? I've always considered myself a feminist. However, I grew up in basically the middle of nowhere, so activism was a constant struggle at my high school.  After recent events on campus I felt like my whole high school experience was repeating, because of this I felt that it was necessary to begin speaking out about issues at Wake. I love Wake Forest, but I think our intersectionality and feminism as a community can be improved on. So I began to search for organizations on campus that would help give me and other like minded individuals a platform to speak up. Through LEAVES I want to actively make our community safer and welcoming for everyone.
Fun Fact: I have extensive knowledge on crystal healing and speak german!
Feminist Icon: Kara Walker and Barbara Kruger
Kendall Henretta
Pronouns: She/Her/Hers
Year/ Major: Junior, Engineering
Why LEAVEs? My feminist journey began in middle school, but my real introduction to social justice and gender equity began in high school. I have had the wonderful opportunity to work with various communities and organizations during this time, and sought a similar experience as I came to Wake Forest. LEAVEs provided not only a space for this, but for growth. I have appreciated the opportunity to not only grow in my own personal feminist journey, but to share this with others and to hear their stories and diversify my own knowledge. With LEAVEs I am so grateful to have grown both as a person and a feminist and to challenge my own preconceptions and enhance my abilities to work towards gender equity as a whole.
Fun fact: I was born abroad, in Russia, and one of my favorite projects at Wake has been discussing feminism in early Soviet Russia.
Feminist Icon: Chimamanda Ngozi Adichie
Harper Shanly
Pronouns: he/him/his
Year/Major: Freshman, Undeclared
Why LEAVEs?
Hey y'all! My name is Harper Shanly and I'm from Blowing Rock, NC! I chose to apply to LEAVEs because of the philosophy course I took my senior year in high school where we read passages in Presenting Women Philosophers that my instructor helped co-author. This exposure opened a whole new world to me on how women's experiences have been dominated by men in academia as well as societal culture, and from this moment on, I realized I had an obligation to use my voice to uplift female narratives and promote gender equity for all.
Fun Fact: I have honorary pickleball (the best paddle sport ever) grandparents after playing pickleball all throughout the summer of 2021
Feminist Icon: Francis McDormand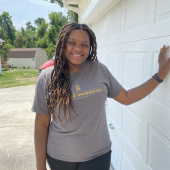 Azaria Staton
Pronouns: she/her/hers
Year/Major: Junior, Health and Exercise Science
Why LEAVEs?
I have been interested in Social Justice and Gender Equity since high school but I had never had a chance to actually advocate and do events. I asked a former LEAVEs alum about the program and she explained how LEAVEs wanted to do more community outreach and boom here I am 🙂
Fun Fact:  I am a certified Doula
Feminist Icon:  Eartha Kitt or Beyoncé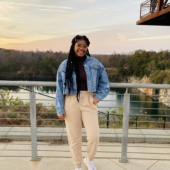 Nia Thompson
Pronouns: She/her
Year/ Major: Sophomore, Sociology
Why LEAVEs? I am very passionate about feminism and gender equity. I love that LEAVEs creates a space for me to grow on my own feminist journey but also to increase awareness on issues relating to feminism and gender equity on campus. I look forward to being surrounded by like-minded students from diverse backgrounds who care about similar issues as me and putting our values into practice on campus!
Fun Fact: I'm an avid tea drinker!
Feminist Icon: Audre Lorde, Tarana Burke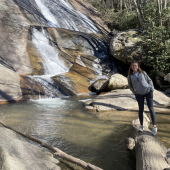 Olivia Thonson
Pronouns: she/her
Year/Major: Senior, Politics
Why LEAVEs?: For as long as I can remember I have been a feminist. Yet, it was not until my freshman year at Wake Forest that I became extremely passionate about peer to peer education. LEAVEs creates a consciousness raising space where we can share experiences about social justice, gender equity, and feminist journeys. However, it also allows us to expand not only our own knowledge, but also to different groups on campus and in the Winston community.
Fun fact: I am very passionate about sexual health education and sexual wellbeing!
Feminist Icon: Gloria Steinem