Discussion Group
Working Women@Wake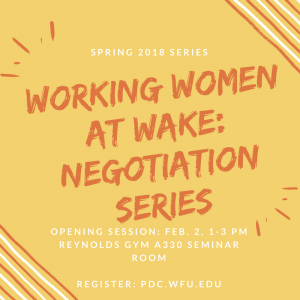 We welcome woman-identified faculty, staff, and graduate students to this monthly brown bag lunch discussion group to explore factors that shape personal and professional identities. Monthly topics are chosen to align with the academic calendar. To encourage engagement, Working Women@Wake rotates days of the week and locations across campuses.
Summer Writing Group
Join us for the Women's Center's fourth annual faculty/staff writing group to help scholars set and meet their writing goals through a collaborative peer feedback process designed to work with your summer schedule.
Meets weekly on Reynolda Campus
Set summer writing goals
Produce scholarship
Give & receive feedback
Build supportive community
Interested? Email womenscenter@nullwfu.edu
Community Building
Women's Center listserv for faculty/staff
Join the listserv for faculty/staff here.
The Women's Center sends a modified version of our weekly student listserv email to faculty and staff with announcements of particular interest to their positions: employee announcements, requests for student nominations, professional development opportunities, and targeted event outreach.
Working Families Listserv
The Women's Center moderates WorkingFamilies@nulllists.wfu.edu to share resources and build community among Wake Forest employees with caregiving responsibilities. Email womenscenter@nullwfu.edu to subscribe.
Regular Engagement Opportunities with the Women's Center
Faculty and staff are invited to participate in many of our student offerings, including the Women's Leadership Symposium, an annual exploration of challenges and opportunities of women's leadership, and special events.
Learn more about the Women's Center's programs and upcoming events by visiting the Upcoming Events page.