"To change everything, we need everyone."
Are you hungry for deeper dialogue about the climate crisis and building community around solutions?  Join others in the WFU community this Spring as we discuss readings from the new anthology, All We Can Save: Truth, Courage, and Solutions for the Climate Crisis.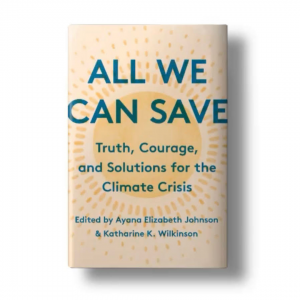 All We Can Save illuminates the expertise and insights of dozens of diverse women leading on climate in the United States—scientists, journalists, farmers, lawyers, teachers, activists, innovators, wonks, and designers, across generations, geographies, and race—and aims to advance a more representative, nuanced, and solution-oriented public conversation on the climate crisis. These women offer a spectrum of ideas and insights for how we can rapidly, radically reshape society.
Small groups or "circles" are scheduled to start in February and will meet throughout the semester. Books will be provided thanks to support from the Office Civic and Community Engagement, the Program for Leadership and Character, and the Divinity School.
Continue the Conversation
We are thrilled to have both co-editors of the All We Can Save anthology speaking to our campus community this Spring.  Follow the links below for more information and to reserve your seat!