Steph Trilling, MSW, LCSW
Director
Steph Trilling (she/her/hers) serves as the Director of the Women's Center at Wake Forest University. Steph serves on the leadership team for the Office of Diversity and Inclusion, is the co-chair of the Culture of Respect Initiative, and directs the Women's Center at Wake Forest University. A licensed clinical social worker, she brings a love for working with people and a systems advocacy approach to creating a culture where every single person is welcomed, celebrated, and valued. She is a student of intersectional feminism and wholeheartedly believes that we all have room to grow on the way to being the best version of ourselves.
Hometown: Boston, MA
Education: University of Massachusetts at Amherst (BA) – History, Education; Salem State University (MSW) – Social Work with a concentration in Children and Families
Hobbies: Drinking way too much coffee, hiking all over NC, being a Hufflpuff, and volunteering at North Star LGBTQ+ Community Center
"We must recognize and nurture the creative parts of each other without always understanding what will be created." –  Audre Lorde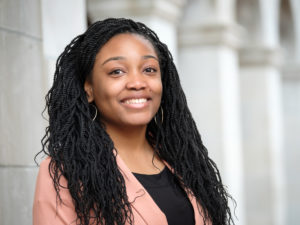 Erin Adamson, MA
Assistant Director
Erin Adamson (she/her/hers) serves as the Assistant Director of the Women's Center at Wake Forest University. Erin oversees the day to day operation of the women's center, including supervising student workers, liaising with the LEAVES student peers, and planning programs around gender equity. She is passionate about using an intersectional feminist lens to promote gender equity on campus. 
Hometown: Charlotte, NC
Education: Spelman College (BA) – Spanish; North Carolina State University (MA) – English-Linguistics
Hobbies: Reading, creative writing, and listening to music 
"The bridge I must be is the bridge to my own power" – Donna Kate Rushin, This Bridge Called My Back 
Nate Wulff Graduate Assistant
Nate Wulff (he/him or they/them) serves as the Graduate Assistant for the Healthy Masculinities programming with the Women's Center at Wake Forest University. He is a first year Masters of Arts in Counseling student originally from Roanoke, Virginia. Before he joined WFU, he attended Vassar College for his Bachelor of Arts in History, focusing on gender and colonialism, with a certification in Elementary Education. He has spent his time as a student and teacher working to inform and empower others through participation in organizations including Body Positive and The New Jim Crow Action Network alongside the creation of inclusive curricula using the lenses of decolonialism, intersectional feminism, and social-emotional development.
Hometown: Roanoke, VA
Education: Vassar College (B.A. History, certificate in Elementary Education)
Hobbies: Singing, dancing, reading, and phone calls with my sister
"How do we hold people accountable for wrongdoing and yet at the same time remain in touch with their humanity enough to believe in their capacity to be transformed?" — bell hooks
Zobia Akhtar Graduate Assistant
Zobia Akhtar (she/her/hers) is the Women's Center Graduate Assistant. She assists the Women's Center with communication and graphic designing, and is also currently pursuing a Masters in Counseling degree. Zobia is very passionate about gender equality, the provision of safe spaces for individuals to express themselves, and playing her part for the betterment of the world however possible.
Hometown: Karachi, Pakistan
Education: Wake Forest, Class of 2023
Hobbies: Listening to music, watching Korean dramas and anime.
"She said that kindness is something that grows inside of each person's body, but it's up to us to nurture that kindness in our hearts. That's why kindness is different for every person." – Tohru Honda, Fruits Baskets.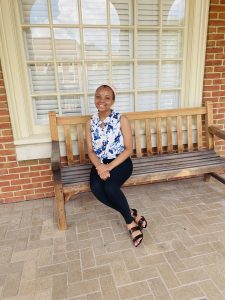 Nina Banks 
Student
Coordinator of Programs 
Nina intends to pursue a career in environmental conservation post-graduation. She always strives to use the insight she has gained interning for a non-profit cultural organization, working for the Office of Diversity and Inclusion, and her role on the executive board of two student organizations on this campus to approach he work through a lens of diversity and inclusion.
Hometown: Freeport, NY
Education: Wake Forest University, B.A. Biology and B.A. Anthropology
Hobbies: Writing (mainly poetry), singing, reading, going on long walks.
"Do I dare disturb the universe?" T.S. Eliot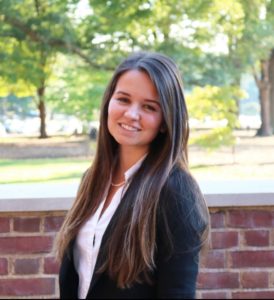 Julia Caravello
Student Communications Coordinator
Julia Caravello (she/her/hers) works as the communications coordinator of the women's center, including running social media accounts and creating the weekly newsletter. On campus, she is involved in Delta Zeta sorority, Alpha Kappa Psi business fraternity, and Momentum Hip Hop crew. She is passionate about gender issues and creating equality on campus.
Hometown: Philadelphia, PA
Education: Wake Forest University, School of Business
Hobbies: Watching Rick and Morty, dancing, spending time with friends
"If you're not the nicest, most hard-working girl in the industry, there's gonna be someone prettier, nicer, and more hard-working." -Gigi Hadid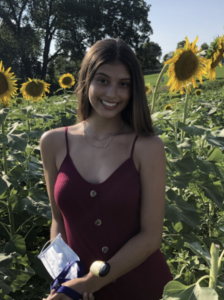 Heavyn McDaniels
Student
Coordinator of Programs 
Heavyn McDaniels (she/her/hers) works as social media coordinator and program assistant in the Women's Center at Wake Forest University. She is on the pre-med track and is planning on majoring in Health and Exercise Science. Heavyn is a freshman who is dedicated to creating safe and open spaces for everyone on campus and the world beyond. Heavyn is excited to be involved and make change for the Wake Forest and Winston-Salem community.
Hometown: Silver Spring, MD
Education: Wake Forest University '25
Hobbies: Watching Twilight on repeat, listening to music, travelling
"The only limit to the height of your achievements is the reach of your dreams and your willingness to work hard for them." -Michelle Obama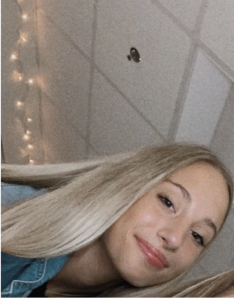 Emma McReady
Student
Coordinator of Communications
Emma McReady (she/her/hers) is a sophomore. She intends on becoming a pediatrician post-graduation. For the past 5 summers of her life, she has been to the Dominican Republic on a mission trip, serving the people in the community of El Cacique. Emma worked with a doctor down there and this experience made her realize how fortunate she is. This has allowed Emma to better understand diversity and people with different backgrounds and challenges than me.
Hometown: Washington D.C.
Education: Wake Forest University
Hobbies: Playing soccer, reading, Hanging out with friends
You educate a man; you educate a man. You educate a woman; you educate a generation."
-Brigham Young

Bea Pearson
Student
Program Coordinator
Bea Pearson is a program coordinator who is committed to serving the Women's Center and its community connections. Among other things, she values intersectional practice, community investment, and all things sweet, in that order. From serving as an intern with the Women's Center to working in the Winston-Salem community with her service fraternity, Bea Pearson tries to enact positive change and put words to action whenever possible.
Hometown: Mount Holly, NJ
Education: Wake Forest University, History major with minors in American Ethnic Studies and Politics and International Affairs 
Hobbies: Singing, reading historical fiction, and getting into heated debates about non-consequential things.
"So the question is not whether we will be extremists, but what kind of extremists we will be. Will we be extremists for hate or for love?"—MLK